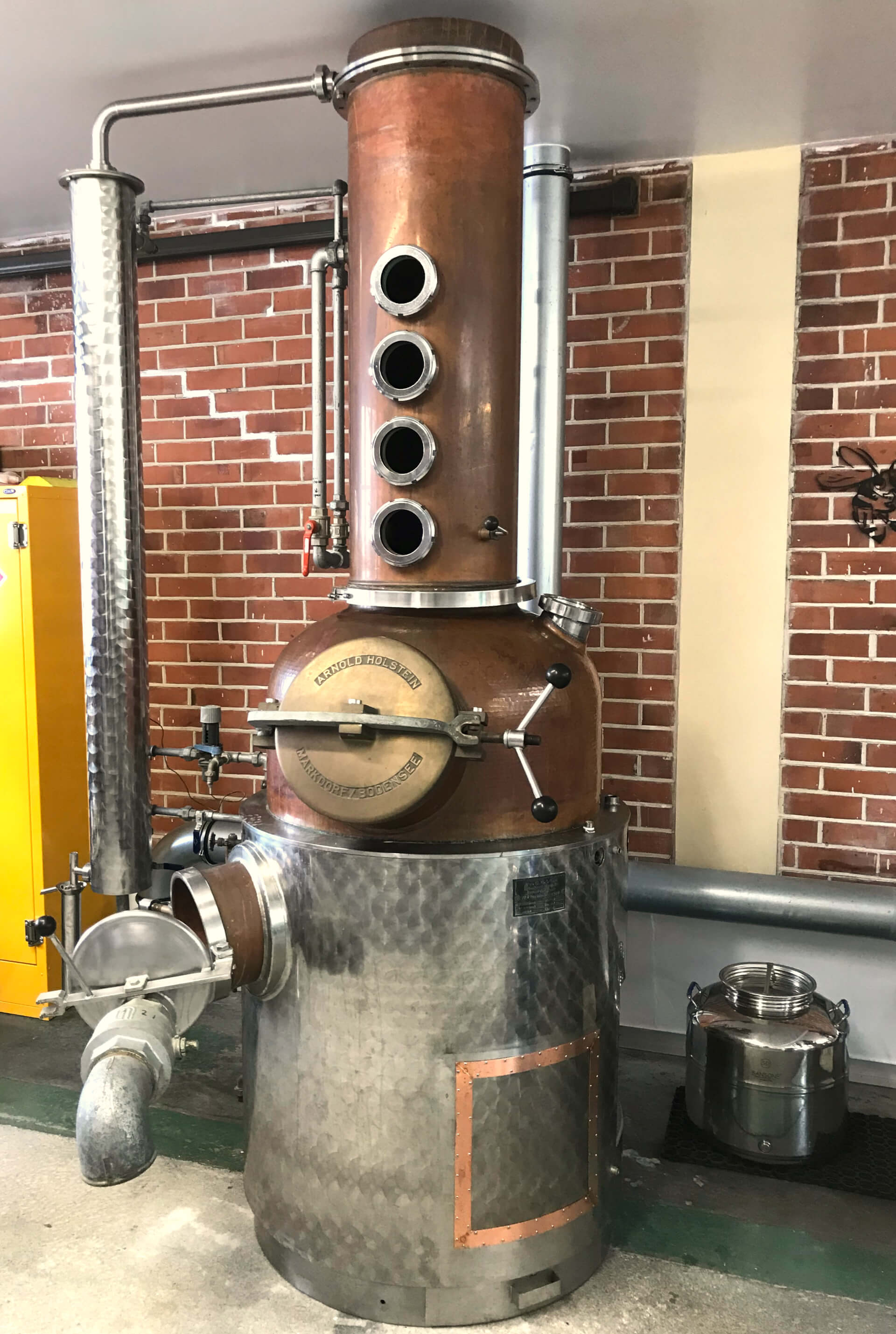 Every Still Has a Story
When an opportunity arose to purchase a Arnold Holstein still located right here in New Zealand, at a time when we were condisdering options for increasing our capacity, it felt like the right opportunity at the right time. 
Arnold Holstein stills are one of the best designed and built stills in the world, but being 30years old meant there would likely be some refurbishing required. It is while refurbishing equipment that you often learn the most - opening the still right up, figuring out why each part was designed the way it was, and trawling through technical drawings - so curiosity got the better of us and we became the new owners of a beautiful 220L Arnold Holstein still.
Refurbishment Job
Arnold Holstein has great heritage in designing stills for distilling traditional european grape spirits and fruit spirits, which is why the still had a gas burner. Cognac for example must be made in stills heated by a naked flame amongst other requirements, so traditions like this carried over into this still. With the way that we have set our Humdinger Gin Distillery up, a naked flame in the still room is not a safe option so our first job was to convert the heating system from the original gas burner to electrical elements. After picking the still up from the previous owner it wasn't even unloaded at Humdinger, instead it went straight to Site Services workshop in Temuka who have some of the best welders in South Canterbury.
The still, straight to a local workshop
The first order of business was to remove the gas burner system, and replace it with flanges ready for the custom-made 30kW heating elements on order from the UK.
The old gas burner water bath removed, and replaced with a stainless, heating element heated water jacket
The last step while at the workshop was to remove the catalyser from the top of the still's column. The catalyser is again a feature for distilling fruit that contain pips, stones or kernels, which contain some compounds that the cayalyser removes. Because we start our process by using a pure netural spirit as this isn't needed for gin production and we confirmed this with the Arnold Holstein team in Geramany just to be doubly sure.
Site Work
After a nervous drive from the Site Services workshop to the Humdinger Gin Distillery, it was time to stand the still up and see for certain that it fitted in our still room! Half of the Site Services workshop team was on hand to help, and to be part of this historical moment. With some final measurements and calculations we decided to lift the still up from laying on it's side to standing proudly upright. We held our breath for the final push but it made it up safely without incident. The magnificent still was then moved into its final position before being levelled up and bolted to the floor, another milestone ticked off! After all of the planning and design work, it was a satisfying moment to see things working out.
With the still secured in place the site work could commence. Every gasket and seal was replaced with new ones, every valve was removed and replaced with new equivalents after some were not holding pressure, the automated cleaning system for our existing still was extended to also clean this new still, the venilation system was modified to account for the new room layout, and other pipework changes completed.
With the mechanical work complete, we could then begin the electrical install. Having a strong engineering and manufacturing background we knew how we wanted the still to be controlled, and where we needed to have full control over how the still operated so we worked with a good friend and one of the best industrial electricians in the region to make our ideas a reality. Some people believe that a craft gin can only be made with a fully manual still, where the distiller is continually making adjustments and tweaks throughout the run. We believe that balancing simple automation with manual controls in order to make the same gin batch after batch, and to be able to fine tune every aspect of the gin is still craft. After all, how can you improve and make the best gin possible, if every batch is different and unpredictable? And it is still the nose and the palate of the distiller who has to make the all important decision of when to make heads and tails cuts in each batch of our gin.
Connecting the new still to the existing cleaning system pipework
Commissioning
Anyone who has installed and commissioned new equipment will have fond cleaning memories, as every nook and cranny needs to be cleaned, then double cleaned, and then inspected to be absolutely sure that the still is ready for production. It's a laborious task that we don't enjoy, but it's a fundamental step than cannot be glossed over.
After many months it was finally time to turn the refurbished still on and see what it was capable of. Before adding alcohol it was important to simply add water to the pot, heat this up so it turned to steam, and make sure there were no leaks while ensuring the heating jacket pressure was under control and that the safety systems fully functional. After a 100% pass during the steam run, it was time to add alcohol to the still.
Running steam through the still as part of commissioning
We were expecting great things being a Holstein, but the control this still gives over each batch is phenominal. It ran like a dream during our test runs where we tuned all of the finer parameters - such as heating and cooling rates - and we couldn't have been happier. Hearing about German Engineering is one thing, but experiencing it is in a league of its own.
Cleaning the new still
Gin Time!
With the test runs complete and every parameter of the stills operation fine-tuned, it was time to make some Humdingers! We charged the still with our neutral spirit, pure water, and carefully weighed botanicals to start the 24hr maceration ready for distillation the following day. After barely sleeping in anticipation of the day to come, the distillery doors opened earlier than usual and the still was kicked into life. Continual checks were completed to ensure nothing was leaking, that the still was heating up correctly, and that everything was safely within operating limits, and before we knew it the first drips of crystal clear gin were being provided by the still. Gin requires several weeks to develop into it's full potential, but the first indications of the spirit steadily running from the still couldn't have been better. With some final adjustments to each of the still's parameters we had it dialled in to make our clean and crisp Citrus Gin, as well as our deeper and more complex Dry Gin. Sleep came a little easier following that!
Still History
With the still up and running, our curiosity led us to look into the history of the still since it had been in New Zealand for several decades by this point. We are very thankful to Ben Leggett from Elemental Distillers who kindly shared the following history of the still.
This still was first imported into NZ by the original owners of a winery in Marlborough called Merlin Estate. These owners were Europeans and their love and heritage of distilling grappa came with them to New Zealand. They used this still to produce their own brandies from their grape must.
In 1997 the winery was purchased by George Michel, becoming a wine label by the same name and the still was included as part of the winery acquisition. Since the still was already setup, he used it to also make his own grape spirit (think NZ-version of Cognac/Armagnac/Brandy) and shared the unit with others such as Hans Herzog who made an outstanding grappa from his organic Montepulciano.
Since then the still has been in storage for a period of time, waiting to be returned to it's former glory.
Past and present spirits made using the same still
Given the history of the still, we need to contain our imagination as to what spirits Humdinger could explore.
Here is a facebook video of Hans Herzog making his Grappa in the still - video link.
The Arnold Holstein still proudly sitting in the Humdinger Still Room, like it has always been there