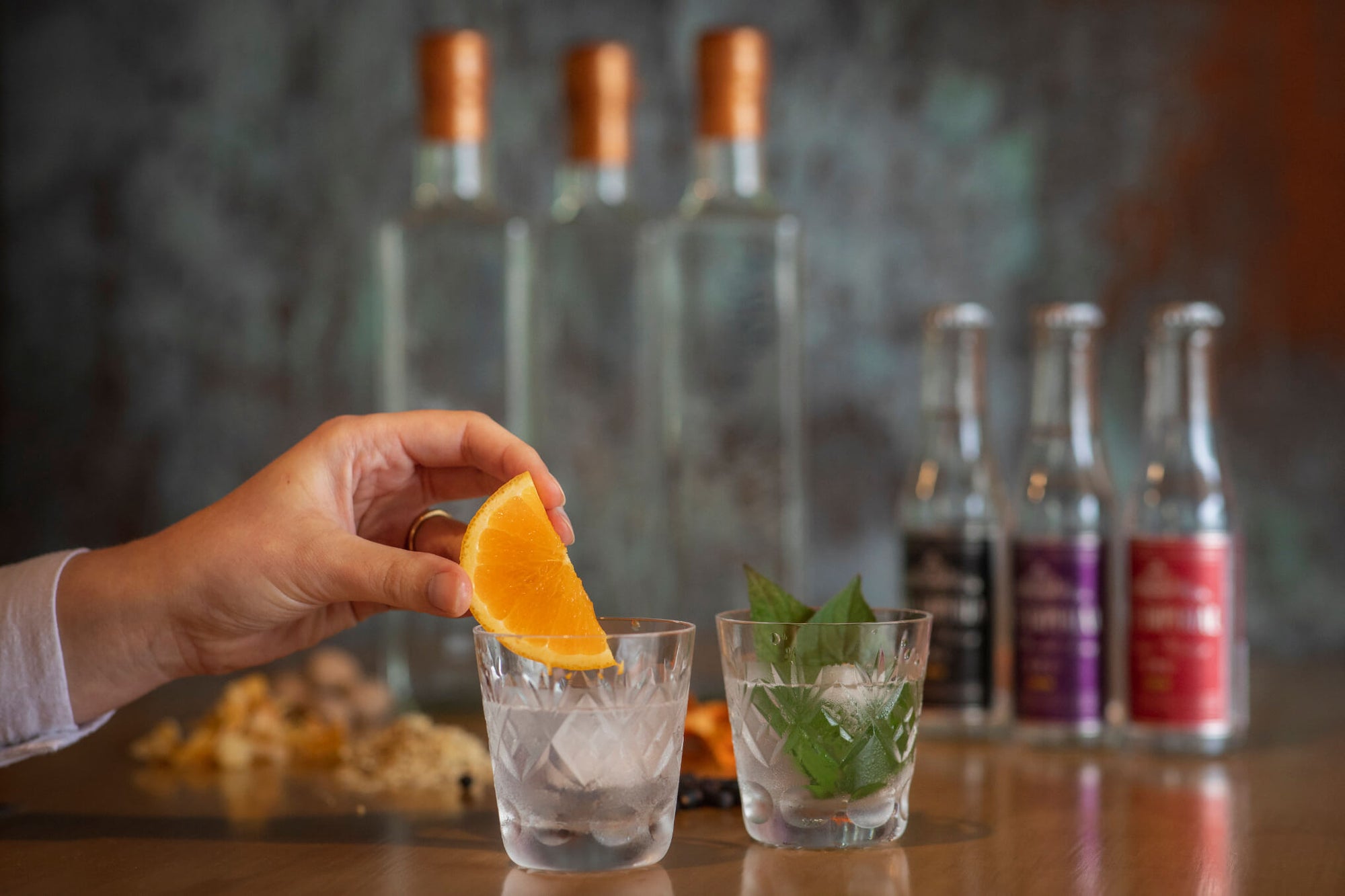 Our Journey to Craftsmanship and Authenticity in Every Bottle of Humdinger Gin
In the heart of Geraldine, New Zealand, a journey began three years ago. A journey inspired by a shared passion for crafting exquisite spirits and the pursuit of perfection. We are Andrew and Saskia Lewis, the proud founders of Humdinger Gin, and this is our story.
Rooted in Tradition, Innovating for Today
Our quest has always been about combining the best of both worlds. Drawing on our backgrounds in food manufacturing, we've intertwined time-honored distillation methods with contemporary techniques. Our 30-year-old still, a masterpiece from Arnold Holstein, reflects the pinnacle of traditional craftsmanship. But we didn't stop there. We've integrated state-of-the-art electric heating and control systems, ensuring each batch of gin embodies precision, consistency, and the high-quality standards we've set for ourselves.
A Symphony of Global and Authentic Flavors
While many champion local ingredients, our philosophy is slightly different. We believe in using only the best botanicals, whether they are from our backyard or sourced globally. The vibrant citrus notes in our gin? Those come from the incredible oranges and lemons of Gisborne, NZ. Our Sloe Gin proudly features sloes we nurture and grow ourselves, and our Cherry Gin Liqueur celebrates the richness of wild Siberian cherries.
From the refreshing local blackcurrants, apples, and rosehip in our Pink Gin to the botanicals handpicked globally, our aim is to preserve and elevate the natural flavors nature so generously offers.
Two Palates, Diverse Flavors
In the realm of gin, we're proud to present not one, but two signature offerings. Our contrasting palates have led to the creation of both the Dry Gin and the Citrus Gin. It's a celebration of diversity and expertise, crafted to cater to a wide range of gin enthusiasts.
An Odyssey of Recognition and Evolution
We are humbled and elated by the accolades our creations have received. From winning a gold medal for our Dry Gin at the NZ Spirits Awards in 2021, to winning a gold medal for our Citrus Gin at this years 2023 NZ Spirits Awards, to the most recent recognition for our Sloe Gin and Cherry Gin Liqueurs both winning gold medals at this weeks 2023 The Junipers - NZ Gin Awards. Yet, every award and every feedback is a reminder of our journey, our commitment to quality, and our quest for continuous refinement.
Join Us in Celebrating Excellence
Every bottle of Humdinger Gin is more than a drink; it's a reflection of our dedication, passion, and commitment to presenting nature's bounty in its purest form. And as we eagerly prepare for the release of our next Sloe Gin vintage in September 2023, we invite you to be part of our story.
Whether you're gifting a bottle to a loved one or pouring a glass for yourself, let's celebrate the genuine, world-class quality that Humdinger Gin represents. And if you love what you taste, help us spread the word.
Experience, enjoy, and share the story of Humdinger Gin – a true testament to nature and craftsmanship.